**Looks like you'll have to click on the pics to see them larger. Sorry about that!
OK - The weather man said that as of last night, we have had 4 full days that didn't have a drop of rain this month. That means 14 days had some form of rain in Central Park (our measurement for the metro NY area). This getting beyond out of hand. I think I have mushrooms growing out of my hair (I don't bother to style it in this - why do it if it's going to end up as a giant frizzball in an hour anyway??). SIGH Oh - and the 5 day forecast? Ummm - yeah. Rain. UGH!!
So in the midst of all of this rain, I realized that we are leaving for our first boat vacation of the year in 2 weeks and 2 days! YIKES!! That means I need to get my planning done - and I really SHOULD get to the boat to do the full cleaning. It's just not even really been great weather for me to think about it yet! I cleaned the galley (kitchen) and I cleaned the "forward head" (bathroom). I still need to clean the rest of everything and then begin loading things onboard. I REALLY don't want to be stuck with the massive provisioning at the last minute this year. You think it's bad to put all your food away after grocery shopping? Try having to find places for it on a boat! It's crazy!
So you think "Boat?? FUN!!" It really is but it's also a lot of work. Think of it this way. The boat is 42 feet long but the interior is maybe 38 useable feet (the extra is in the bow - the front pointy part of the boat, and a bit in the stern - the very back of the boat). The boat is just shy of 14 feet wide but that is at it's widest point. Remember that a boat is tapered at the front, gets wide towards the middle then gets smaller again at the back. In addition, the sides of the boat are not straight up and down but sloped so the interior useable space is approximately 10 feet. So our "house" for 6 people is 380 square feeet. In that space, we have enough sleeping space for 6 (two "double" beds and a "queen"), two heads (one is like a 1/2 bath, one is a 3/4 with a shower), a galley (kitchen) with a refrigerator, freezer, microwave, oven and 3 burner stove - oh and a double sink! We have our living room/dining room/family room/spare bed right next to the galley and then our outside "porch". Sounds like lots but I can get a drink of water from the kitchen from my master bed. ROTFL! Add to that the fact that hour "house" moves - sometimes quite roughly and you end up with a very interesting time. But I have to say, we've had some wonderful times with this boat and I thank God that the boat was bought and paid for by the time our income dropped. :) So our vacations cost us what we pay in food (granted, our food bill is higher on the boat than on land) and the cost of wherever we stay. There are times that cost is free and times we need to pay for a mooring or a dock. But we try to keep costs as low as possible since...we've just not got it. LOL
So for a tour of our boat, we begin with the inside of the boat. Remember I said living room/dining room/family room/spare bed? That's literally what it is.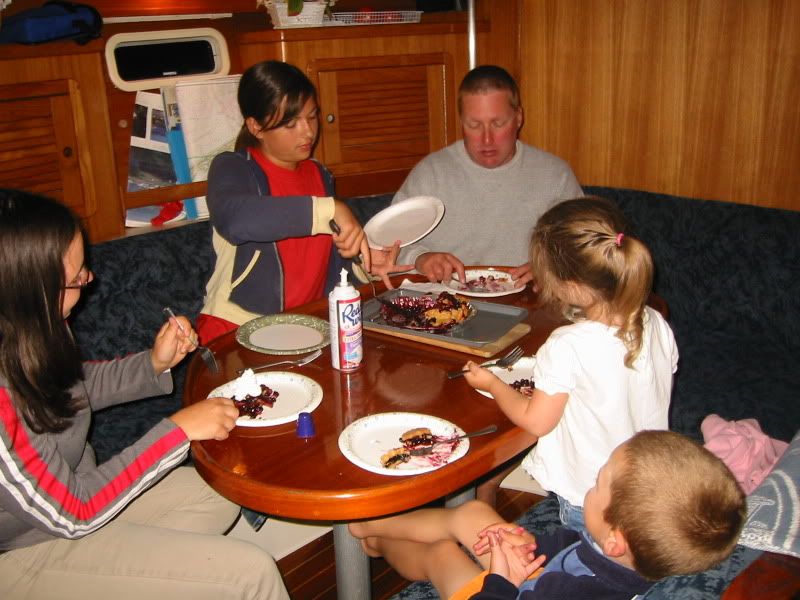 Now, opposite that side is the galley or kitchen. Here is my daughter making lunch. Realize that if she steps back, she'll bump into the seat from the living room/dining room/family room/spare bed.
Here's another view of the living room/dining room/family room/spare bed. This is DH doing navigation for our day's travels. The computer interfaces with the GPS and autopilot so we can tell the boat to go to a particular place and it will follow the course set for it on the computer (important if there are land masses in the way).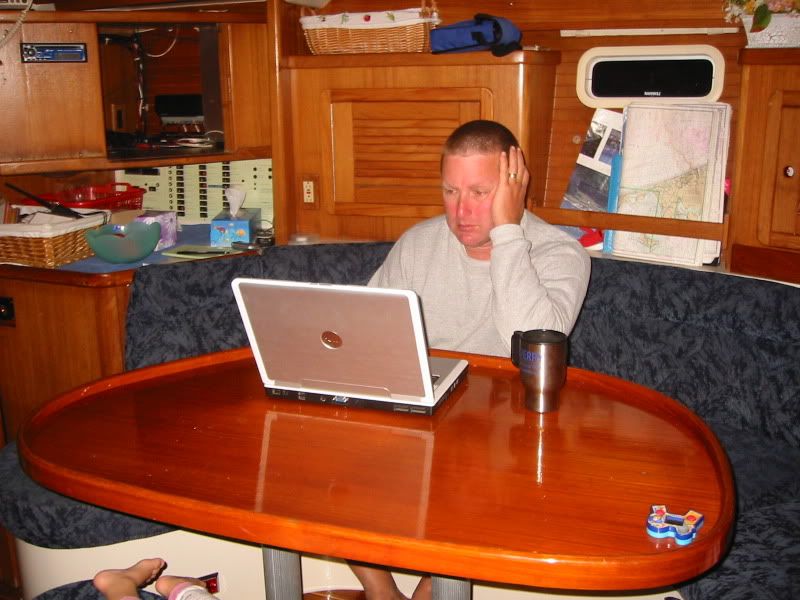 Next we'll see the "bedrooms". Yes, we have 3 bedrooms on this boat. However, as you see in the next two pictures, they consist of a double bed wall to wall on 3 sides and literally 1.5 square feet of floor. There is also a small closet and a seat in each one. First is the little one's room which is under the "cockpit" or outside seating area of the boat. The second one is on the opposite side of the boat and a mirror image of the other one. This is my girls sleeping one morning.
I don't have a good picture of my "master stateroom" but here's a pic of me in bed reading a book. The large cream colored post next to me is the mast going through the boat to the bottom and immediately next to the empty pillow next to me is the side wall of the boat. We have a wall at our head and a wall at our feet - quite cozy. :)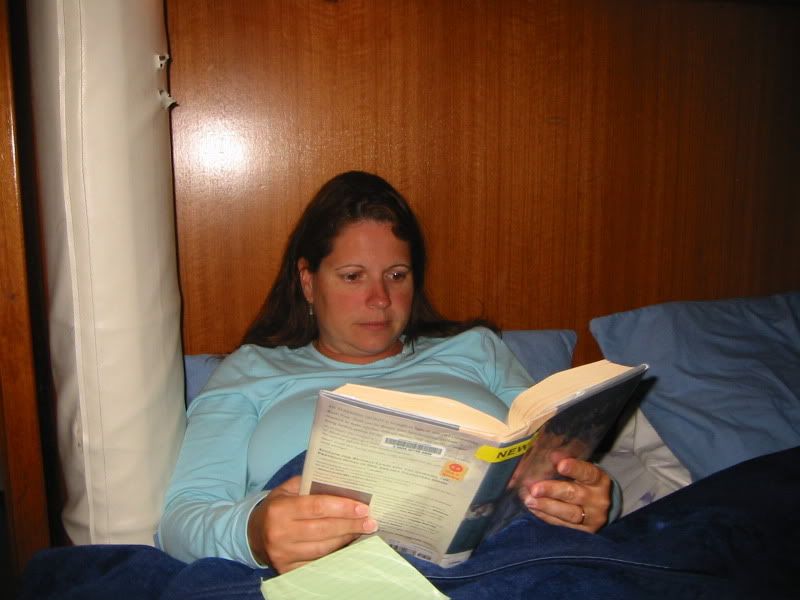 This is the only picture we have of the master "head" which is just past our bedroom. You can see our bed in blue on the left and on the right is a closet, a cabinet and some drawers. Since the angle of the boat is consistent through the whole thing, the bottom "drawer" is only 3" deep. LOL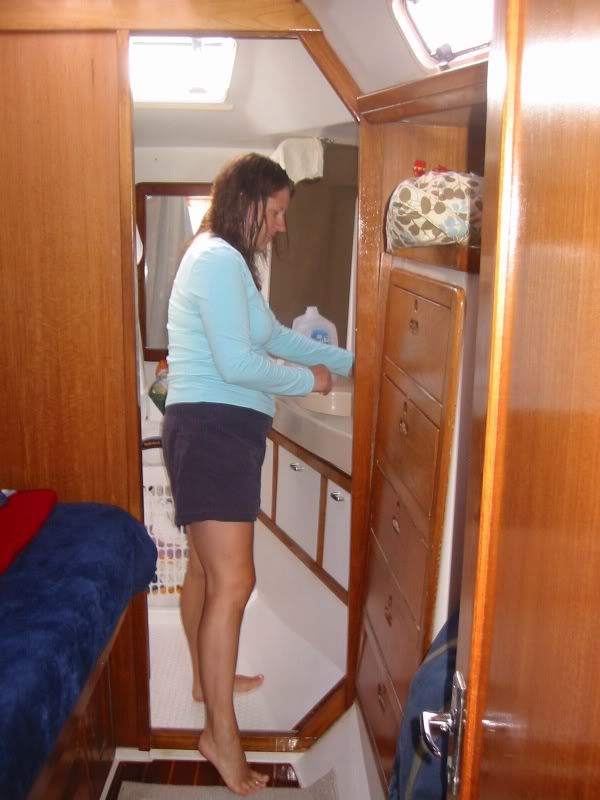 Outside the boat is another seating/dining area as well as steering and such. This area is called the cockpit and we eat out here unless the weather is really bad. Here we are I think on the night we had some clams we caught ourselves. You don't see shells because when you're done with a clam, you just toss the shell overboard!
Speaking of those clams, here's how we cooked them. It's our BBQ that hangs off the back and runs off of those small propane tanks you use for camp stoves. It works great!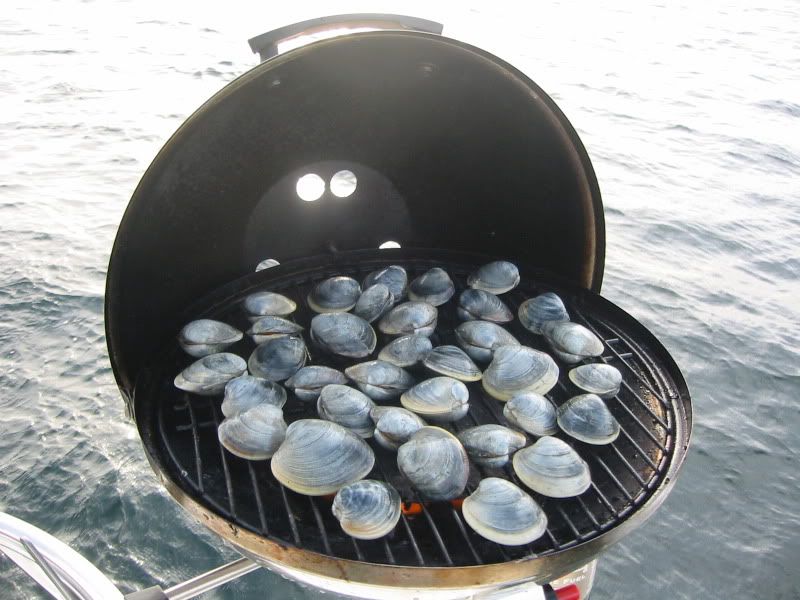 Just a few more pictures of some scenes from outside the boat. Our favorite destination is Mystic Seaport in Connecticut. It's an amazing place of history and learning and we get to stay right on the property (well, their water - LOL). See our view?? That large black boat behind us is the Charles W. Morgan, the only wooden whaling ship left in the world.
A misty morning in Mystic:
At Block Island, RI, there is a boat that comes around twice a day through all of the boats delivering baked goods and coffee in the morning and bread, chowder, raw seafood and desserts at night. He calls out "Andiamo" which means "let's go" in Italian. His boat's name? "I gotta no change". LOL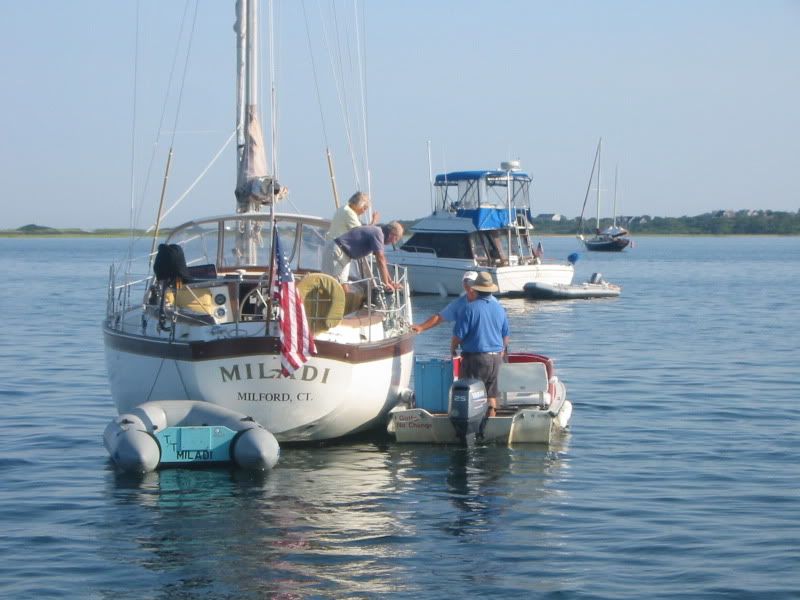 Finally, here are two pictures of me and my little ones. What a wonderful bonding experience living in 380 feet for 3 weeks gives us!